Description
Garlic Food essence flavor can be used as a marinade, a spread, for sauces and/or for cooking.
About this item
Ingredient Type: Vegetarian

Shelf Life: 24 months

Ingredients: Propylene glycol, natural flavoring substances

Product Quantity: 20 ml

Package Contents: 1 glass Bottle of Garlic essence
Safety Information:
Products are concentrates, be mindful of the dosage. The flavors work at extremely low dosage
Garlic Essence is an all-natural, vegan condiment spread that can be used as a marinade, a spread, for sauces and/or for cooking. This garlic Aioli spread is made with fresh garlic and extra virgin olive oil as well as other natural ingredients. It has virtually limitless uses and using it has been such a time saver for me in the kitchen. Instead of chopping garlic for lunch and dinner, I simply add the desired amount to my recipe and it really transforms it into something special with a fresh garlic taste.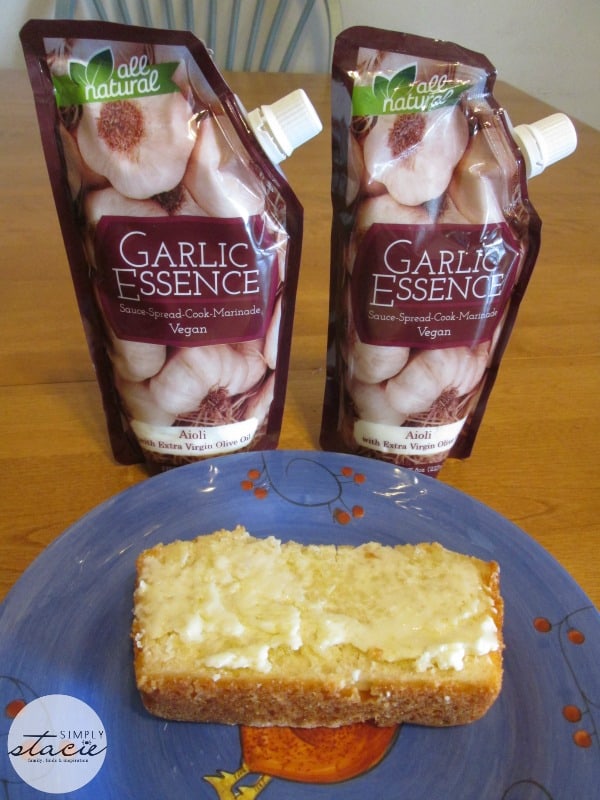 A few of my favorite ideas for using Garlic Essence is as a simple spread for my homemade bread….. I also added a tablespoon (a small amount goes a long way) to a beef stroganoff recipe that I was making it and it was absolutely delicious.
There are tons of recipe ideas to choose from when using Garlic Essence at the Taste of Essence website and there are several recipes from Taste of Essence that I plan to try soon such as the Healthy Yogurt Dip for our big game party, the Shrimp Garlic Linguine and the 3-Herb Garlic and Dressing Marinade.
If you are looking to lighten up a recipe then you can even substitute Garlic Essence in your healthier recipes as a spread instead of mayonnaise. We tried grilling salmon with a little bit of olive oil and Garlic Essence brushed on top, finishing it with a squeeze of lemon….simple and mouth wateringly delicious!
Garlic Essence comes in a convenient squeeze pouch with a cap so it can be stored in the refrigerator and used as needed.
You are invited to visit Taste of Garlic Food essence flavor to learn more about Garlic Essence, check out the tasty recipes and try it out yourself by purchasing in the online store.