6 health benefits of 'tukh malanga'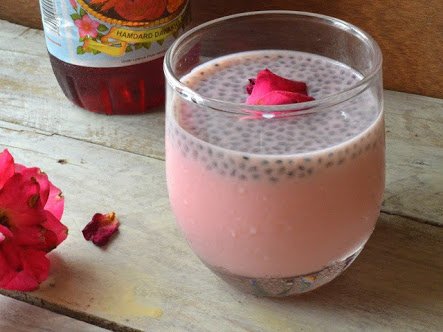 ---
Many of us these days are unaware of the uses, nutritional facts and medicinal value of basil seeds. Whenever you get time, especially in the summer season, ask your grandmother about the importance of this nutrient-rich food, popularly known as tukh malanga.
Mix a handful with chilled faluda, limo pani, Rooh Afza or water, and it will surely keep you refreshed, rehydrated and refuelled.
Compiled from Beauty Glimpse, here is a list of six health benefits of basil seeds that we guarantee will attract you towards this long-forgotten food.
1. Packed with nutrition
Adding basil seeds to your regular diet will help regain all the lost carbohydrates, proteins, fats, sugar, dietary fibres, vitamins and minerals. Tukh malanga regulates your bodily functions and keeps you from a number of ailments.
2. Helps in digestion
Scientists have proven that basil seeds have excellent carminative effects because they contain a very high level of insoluble dietary fibres. They serve the purpose of a natural detoxifying agent, which cleanse out the entire gastrointestinal tract efficiently. As the stomach becomes toxin-free, the process of digestion turns easier and the chances of developing various digestive issues such as an upset stomach, cramps, indigestion and flatulence also go down.
3. Cures constipation
Being rich in insoluble dietary fibres, tukh malanga can reduce constipation to a great extent or even cure it completely. All you need to do is to soak a handful of the seeds in a glass of milk and drink it every night before going to bed. It will make bowel movements smoother, thereby relieving constipation.
4. Heals acidity and stomach burn
Such seeds are very soothing for our gastrointestinal tract, especially the stomach. If you feel an acute burning sensation in your abdomen, you should consume some basil seeds. Give it one week and you will definitely see a difference!
5. Regulates body heat
When it comes to keeping our body cool during scorching summer days, tukh malanga can be a true rescuer. It has great cooling properties and is used as an effective body coolant. Just submerge a handful of fresh basil seeds in a glass of cold water and drink it after an hour or so.
6. Reduces stress
These seeds are one of the best natural stress busters. As mentioned earlier, they have wonderful calming effects on our body, which are to some extent similar to aromatherapy. Therefore, incorporating these seeds in your daily food actually means reduced stress levels, increased mental clarity, improved mental strength and uplifted mood.
Sorry no more offers available
Related products
Cumin seeds 85g

₨

250

DESCRIPTION OF Cumin seeds 85g Cumin is often described as boasting a robust flavor profile that is warm and earthy with a spicy bittersweet aroma and light citrus overtones. Cumin is commonly compared to caraway seeds as a slightly spicier, and bitter alternative. Cumin is the dried seed of the herb Cuminum cyminum, a member of the …

Add to cart

GINGER POWDER 150g

Description of GINGER POWDER 150g GINGER POWDER 150g is the Creamy Yellow coloured powder. It is extracted and grounded from the dried ginger rhizome. It possesses an intense aroma and a sharp, spicy flavour resembling the natural ginger taste profile. The free-flowing flavouring powder is an easy addition to instant food products with zero spoilage. What …

Read more

Corn Flour 100g (whole grain)

₨

140

Description of Corn Flour 100g-khoraak foods Corn flour 100g-khoraak foods is a type of flour milled from dried whole corn kernels. It is considered a whole grain flour because it contains the corn's hull, germ, and endosperm. Corn flour is usually yellow, but it can also be white or blue, depending on the variety of …

Add to cart

MALAI KHEER BADAMI 100g

₨

160

Description of MALAI KHEER BADAMI 100g MALAI KHEER BADAMI 100g "Most probably the best Malai kheer in the world" Malai Kheer with Almonds  1 pkt 100 g makes 500 g kheer.  Made to perfection. Just add milk and kheer ready in 5-7 minutes. Let it cool and enjoy when chilled. Try our sugar free kheer …

Add to cart

Food Color Blue (60ml)

₨

280

Why buy Khoraak Food colors ?

Made from natural plant-based sources. (Chemical free)
Food grade.
At least 2 times more concentrated . Few drops will bring desired results.
Dropper bottle for ease and comfort.
2 years expiry.
Halal

Add to cart

ICING SUGAR 200g

₨

160

Description of ICING SUGAR 200g ICING SUGAR 200g is made by crushing or pulverising pure white sugar into powder using a blender. Around the world icing sugar is also known as confectioner's sugar and powdered sugar. Its powdered form dissolves instantly, making it perfect for things like icing, whipped cream and sugar cooking. What's the …

Add to cart

ALMOND FLOUR 50g

₨

550

Description of ALMOND FLOUR 50g ALMOND FLOUR 50g is made from ground, blanched almonds. Almond flour is made by removing the skins of the almonds by boiling them in water, and then by grinding and sifting the almonds into a fine flour-like consistency. Khoraak food's Almond flour comes from ground almonds. It has a number …

Add to cart

Chocolate Essence

₨

280

Why buy Khoraak Foods essence?

100% Halal unlike some cheap brands which use spirits.
They are super concentrated. Min 2-3 times then others brands. Few drops will give you desired result. (Dropper attached)
Their are as near as possible to original.
Colored glass bottle to save essence from light and plastic contamination.

Add to cart

BESON FLOUR PURE 400g

Description of BESON FLOUR PURE 400g BESON FLOUR PURE 400g is made from finely ground Chana dal (hulled split Bengal gram). This gluten free flour, has sweet and nutty flavor and binding nature, rich in protein, lower in calories and carbohydrates. Used in Pakistan subcontinental cooking, baking, and in preparation of sweets and savory snacks. …

Read more

Anar Dana

₨

120

Anar Dana (25g)
Anardana is used in Pakistani and Persian cuisine as a souring agent, much like sumac or amchoor.  It adds depth of flavor as well as brightness.

Add to cart

Khoya Food Essence flavour 20 ml khoraak foods

₨

280

Why buy Khoraak Foods Khoya essence?

100% halal. Propylene glycol is used instead of spirit.
 2-3 times more concentrated.
High Quality. Probably the best in Pakistan.
Dropper bottle (For control dispensing)
Glass bottle (To save from plastic contamination)
Colored bottle (To save from light degradation)
2 years min expiry.

Add to cart

PINK SALT..200g

₨

85

Description for Table Salt pink 200g This salt is very strong and has a crunchy, rough texture. Table salt pink by khoraak foods has a rare purity and is exceptionally rich in minerals. It is low in sodium. Pink salt is perfect for seasoning roast meat, seasonal vegetables, baked fish and soups. The salt, often has …

Add to cart

Table Salt Black 200g-Khoraak Foods

₨

160

.. Description of Table Salt Black 200g Table Salt Black 200g often referred to as  black salt, or kala namak. It is a rock salt produced in the Himalayan region. It contains varying amounts of sulphur compounds found naturally in the Himalayan mountains. In addition to sodium chloride (the primary chemical constituent in salt). Black …

Add to cart

PINK SALT PURE 700g

₨

150

Description of PINK SALT PURE 700g This salt is very strong and has a crunchy, rough texture. Table salt pink by khoraak foods has a rare purity and is exceptionally rich in minerals. It is low in sodium. Pink salt is perfect for seasoning roast meat, seasonal vegetables, baked fish and soups. The salt, often has a …

Add to cart

sandal Essence

₨

280

Why buy Khoraak Foods essence/flavours?

100% Halal (non spirit)
 Super concentrated.  2-3 times then others brands. Few drops give desired result.
Dropper bottle.
 High quality ingredients.
Colored glass bottle (to save  from light and plastic contamination)
2 years expiry.

Add to cart

SOOJI SUPER FINE 500g

Description of SOOJI SUPER FINE 500g SOOJI SUPER FINE 500g is also known as semolina. Suji is coarse middling made from durum wheat. The scientific name of durum wheat is Triticum. Suji is an ingredient that can be used for breakfast, lunch, dinner or snacks.  Suji can be a time saver on busy days since …

Read more

SHAKAR 500g

₨

325

Description of SHAKAR 500g SHAKAR 500g is a sugar product with a unique brown color owing to the presence of molasses. It is either an unrefined or partly processed soft sugar. It is composed of sugar crystals with a certain residual content of molasses or is manufactured by adding molasses to pure white sugar. SURPRISING …

Add to cart

BLACK PEPPER WHOLE 100g

₨

295

DESCRIPTION FOR BLACK PEPPER WHOLE 100g Black Peppercorns are round and consistently sized, measuring roughly five millimeters in diameter. The spice has a rough texture with a cracked and withered surface surrounding a tan inner seed. Black Peppercorns are firm and extremely hard to the touch, requiring a good deal of force to break. Black pepper …

Add to cart

MAIDA REFINED FLOUR 500g

Description of MAIDA REFINED  FLOUR 500g MAIDA REFINED  FLOUR 500g is a white flour from the Pakistan subcontinent, made from wheat. Finely milled without any bran, refined, and bleached. It closely resembles cake flour. Maida is used extensively for making fast foods, baked goods such as pastries, bread, several varieties of sweets, and traditional flatbreads. …

Read more