Tukh Malanga Benefits for Weight Loss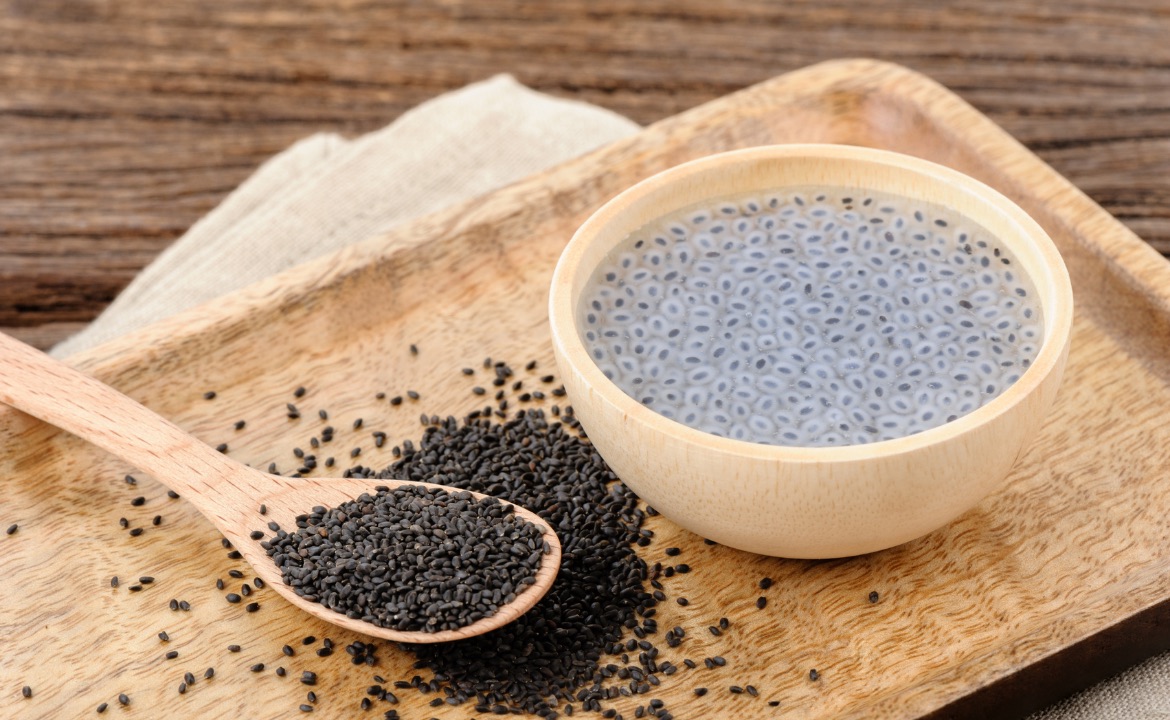 Tukh Malanga or Basil Seeds are full of vitamins, minerals and fiber that helps your body maintain a healthy balance of micronutrients. Tukh malanga has been used as a popular summer drink.
Tukh Malanga Benefits
Packed with Minerals
Just 1 tablespoon (0.5 ounces or 13 grams) of basil seeds is a good source of iron, calcium, and magnesium — which could help fill important shortcomings in your daily diet.
Great Source of Fibre
It contains soluble fibre, which may promote gut health, blood sugar control, healthy cholesterol levels, and appetite control. It may also cure constipation. However, there is more research needed in these areas.
Cures Stomach Burns and Acidity
Basil seeds are amazing for gut health. It may help relieve your stomach and acidity problems if used for a week.
Helps in Weight Loss
Tukh Malanga is best used to aid in weight loss as they detox the digestive tract while giving the stomach a full feeling, and therefore reducing the cravings of food for a longer period.
Is TUKH Malanga same as chia seeds?
In this part of the world,
chia seeds are often mistaken for basil seeds, better known here as tukh malanga
. Chia seeds are native to south America and don't have a desi name. 
Sorry no more offers available
Related products
ALMOND FLOUR 50g

₨

550

Description of ALMOND FLOUR 50g ALMOND FLOUR 50g is made from ground, blanched almonds. Almond flour is made by removing the skins of the almonds by boiling them in water, and then by grinding and sifting the almonds into a fine flour-like consistency. Khoraak food's Almond flour comes from ground almonds. It has a number …

Add to cart

Aloo Bukhara 100g

₨

295

Description of Aloo Bukhara 100g Aloo Bukhara 100g alsa known as plum, is a beautiful colored fruit that belongs to the Rosacea family. Rosacea also includes fruits like peaches and almonds. Usually, plum comes in different colors and sizes but the most common color is red. Eating Aloo Bukhara helps to maintain body weight and combats …

Add to cart

Cumin seeds 85g

₨

250

DESCRIPTION OF Cumin seeds 85g Cumin is often described as boasting a robust flavor profile that is warm and earthy with a spicy bittersweet aroma and light citrus overtones. Cumin is commonly compared to caraway seeds as a slightly spicier, and bitter alternative. Cumin is the dried seed of the herb Cuminum cyminum, a member of the …

Add to cart

GARLIC POWDER PURE 400g

Description of GARLIC POWDER PURE 400g GARLIC POWDER PURE 400g  is made of dehydrated garlic cloves that have been dried and finely ground to a flour-like consistency. The fine consistency allows the garlic to disintegrate quickly and incorporate into a recipe. Garlic powder is a culinary spice that is created by drying and finely grinding …

Read more

MALAI KHEER BADAMI 100g

₨

160

Description of MALAI KHEER BADAMI 100g MALAI KHEER BADAMI 100g "Most probably the best Malai kheer in the world" Malai Kheer with Almonds  1 pkt 100 g makes 500 g kheer.  Made to perfection. Just add milk and kheer ready in 5-7 minutes. Let it cool and enjoy when chilled. Try our sugar free kheer …

Add to cart

PINK SALT PURE 700g

₨

150

Description of PINK SALT PURE 700g This salt is very strong and has a crunchy, rough texture. Table salt pink by khoraak foods has a rare purity and is exceptionally rich in minerals. It is low in sodium. Pink salt is perfect for seasoning roast meat, seasonal vegetables, baked fish and soups. The salt, often has a …

Add to cart

COCOA POWDER 200g

₨

310

Description of COCOA POWDER 200g COCOA POWDER 200g  is an end product after cacao beans have been fermented, roasted and pressed to extract most of the cocoa butter. "With all of the flavor but a fraction of the fat, cocoa powder is essentially a concentrated form of cocoa beans: it is bitter and strong. Cocoa …

Add to cart

BESON FLOUR PURE 400g

Description of BESON FLOUR PURE 400g BESON FLOUR PURE 400g is made from finely ground Chana dal (hulled split Bengal gram). This gluten free flour, has sweet and nutty flavor and binding nature, rich in protein, lower in calories and carbohydrates. Used in Pakistan subcontinental cooking, baking, and in preparation of sweets and savory snacks. …

Read more

GINGER POWDER 150g

Description of GINGER POWDER 150g GINGER POWDER 150g is the Creamy Yellow coloured powder. It is extracted and grounded from the dried ginger rhizome. It possesses an intense aroma and a sharp, spicy flavour resembling the natural ginger taste profile. The free-flowing flavouring powder is an easy addition to instant food products with zero spoilage. What …

Read more

MAIDA REFINED FLOUR 500g

Description of MAIDA REFINED  FLOUR 500g MAIDA REFINED  FLOUR 500g is a white flour from the Pakistan subcontinent, made from wheat. Finely milled without any bran, refined, and bleached. It closely resembles cake flour. Maida is used extensively for making fast foods, baked goods such as pastries, bread, several varieties of sweets, and traditional flatbreads. …

Read more

Anar Dana

₨

120

Anar Dana (25g)
Anardana is used in Pakistani and Persian cuisine as a souring agent, much like sumac or amchoor.  It adds depth of flavor as well as brightness.

Add to cart

SHAKAR 500g

₨

325

Description of SHAKAR 500g SHAKAR 500g is a sugar product with a unique brown color owing to the presence of molasses. It is either an unrefined or partly processed soft sugar. It is composed of sugar crystals with a certain residual content of molasses or is manufactured by adding molasses to pure white sugar. SURPRISING …

Add to cart

Lemon Shikanjvi (100g)

₨

160

This Lemon Shikangvi Nimbu Paani Lemonade is:
– very easy to make,
– refreshing and healthy,
– perfect for hot summer days,

– Ramzan product for Iftari,

-Ready to drink. Just add chilled water,

-Makes 4 x 200 ml glass per packet

Add to cart

ICING SUGAR 200g

₨

160

Description of ICING SUGAR 200g ICING SUGAR 200g is made by crushing or pulverising pure white sugar into powder using a blender. Around the world icing sugar is also known as confectioner's sugar and powdered sugar. Its powdered form dissolves instantly, making it perfect for things like icing, whipped cream and sugar cooking. What's the …

Add to cart

Table Salt Black 200g-Khoraak Foods

₨

160

.. Description of Table Salt Black 200g Table Salt Black 200g often referred to as  black salt, or kala namak. It is a rock salt produced in the Himalayan region. It contains varying amounts of sulphur compounds found naturally in the Himalayan mountains. In addition to sodium chloride (the primary chemical constituent in salt). Black …

Add to cart

MORINGA LEAF POWDER 227g

Description of MORINGA LEAF POWDER 227g MORINGA LEAF POWDER 227g is a plant native to India and other countries. It contains proteins, vitamins, and minerals, making it useful to fight malnutrition.Moringa is an important food source in some parts of the world.  Health Benefits of Moringa Powder The moringa tree is native to the south of …

Read more

Corn Flour 100g (whole grain)

₨

140

Description of Corn Flour 100g-khoraak foods Corn flour 100g-khoraak foods is a type of flour milled from dried whole corn kernels. It is considered a whole grain flour because it contains the corn's hull, germ, and endosperm. Corn flour is usually yellow, but it can also be white or blue, depending on the variety of …

Add to cart

SOOJI SUPER FINE 500g

Description of SOOJI SUPER FINE 500g SOOJI SUPER FINE 500g is also known as semolina. Suji is coarse middling made from durum wheat. The scientific name of durum wheat is Triticum. Suji is an ingredient that can be used for breakfast, lunch, dinner or snacks.  Suji can be a time saver on busy days since …

Read more

Sattu Sherbet (100g)

₨

120

Benefits of Drinking Sattu: 7 Reasons Why You Should Include This in Your Summer Diet

7 amazing health benefits of drinking sattu in summers:
Provides instant energy. …
Aids in Weight Loss. …
Maintains Healthy skin. …
Increases Appetite. …
Prevents Diabetics and High blood pressure. …
Improves Digestion. …
Herbal Remedy for Women.

Add to cart

TURMERIC POWDER 230g

Description of TURMERIC POWDER 230g TURMERIC POWDER 230g An upright herb with large. It is oblong leaves that are dark green on the upper surface and pale green underneath. Its yellow-white flowers grow on a spike-like stalk and have small, brown seeds. Turmeric only reproduces via its underground stem (rhizome) which is thick and ringed …

Read more