Brownie Mix 300g – Khoraak Foods
₨320
50 in stock
Brownie Mix 300g – Khoraak Foods
About This Item
Brownie mix 300g: Bake a delicious dessert with this  brownie mix that makes mouthwatering brownies
QUICK AND EASY: Make brownies by just adding a few ingredients as directed and popping in the oven
ENDLESS OPTIONS: Prepare chocolate brownie mix as is or explore the many Betty Crocker creative recipes
CHOCOLATE FUDGE: Enjoy the rich taste of fudge chocolate in every bite
A TRUSTED FAVORITE: Betty Crocker brings you the same fresh-baked favorites you've known and loved all your life
BOX TOPS FOR EDUCATION PARTICIPATING PRODUCT: Give back to schools with Betty Crocker. Download the Box Tops App to learn more & start earning cash for schools in need today.
Short Description of Brownie Mix 300g-Khoraak Foods
There's nothing wrong with being a purist, especially when it comes to your brownies. After all, rich, chocolate brownies that are full of flavour are one of our favourite indulgences. Try our top-rated 'Chocolate Fudge Brownie Mix' today for a decadent treat that can't be beat. I am a sucker for a good brownie recipe. I like consistently good brownies, to have a flaky crust, chewy inside and to taste chocolate.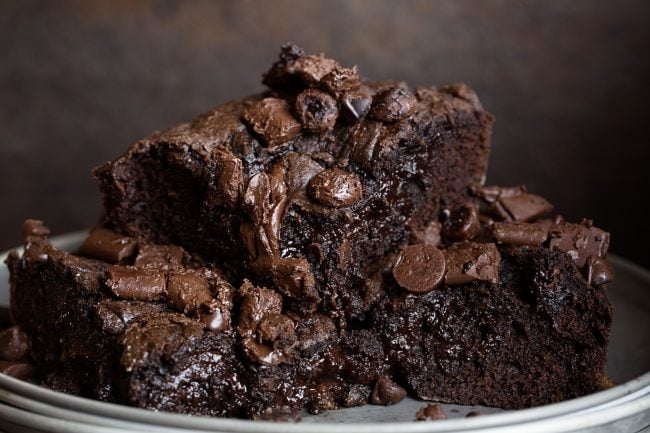 This recipe tastes amazing and easily lends itself to adaptations. For instance, you can add any sort of chocolate chip, white chocolate chip, M&M's, Nutella, etc. You can also double the recipe or pair the brownie mix with frosting.
Sorry no more offers available
Related products
Food Color Orange 60ML

₨

180

Descripton of Food orange color 60ml Food color orange 60ml is potentially the most important sensory property in the food and beverages industry. Food color gives consumers an almost immediate impression about the freshness, flavor and quality of a product. This affects a consumers decision to purchase that product or select something that looks more …

Add to cart

Elaichi Essence

₨

280

Why buy Khoraak Foods elaichi extract?

100% Halal unlike some cheap brands which use spirits.
They are super concentrated. Min 2-3 times stronger then others brands. Few drops will give you desired result.
Their are as near as possible to real cardamom.
Available colored glass bottle to save essence from light and plastic contamination.

Add to cart

Desi Ghee Essence 20ml

₨

280

 

Taste of real Ghee in few drops.

Add to cart

Milk Butter Essence

₨

280

Why buy Khoraak Foods Milk Butter Flavour?

100% Halal unlike some cheap brands which use spirits.
 Concentrated. Min 2 times then others brands. Few drops will give you desired result.
Their are as near as possible to real Butter.
We use colored glass bottle to save essence from light and plastic contamination.

Add to cart

Pista Food Essence

₨

280

Why buy Khoraak Foods pista essence?

100% Halal unlike some cheap brands which use spirits.
Super concentrated. Min 2-3 times then others brands. Few drops will give desired result.
Their are as near as possible to real flavors.
Colored bottle to save essence from light.
Only glass bottle is used ,as plastic reacts with essence ingredients and quality is compromised.
A special dropper is provided to control the flow of essence.

Add to cart

Chocolate Chips 125g

₨

550

DESCRIPTION OF Chocolate Chips 125g Chocolate Chips 125g or chocolate morsels are small chunks of sweetened chocolate, used as an ingredient in a number of desserts (notably chocolate chip cookies and muffins), in trail mix and less commonly in some breakfast foods such as pancakes.  But they contain more cocoa butter than regular bar chocolate. So …

Add to cart

Kulfa Essence 20ml

₨

280

Why buy Khoraak Foods essence/flavours?

100% Halal (non spirit)
 Super concentrated.  2-3 times then others brands. Few drops give desired result.
Dropper bottle.
 High quality ingredients.
Colored glass bottle (to save  from light and plastic contamination)
2 years expiry.

Add to cart

Bread Crumbs 150g

₨

320

. Description of Bread Crumbs 150g Bread crumbs or breadcrumbs (regional variants including breading and crispies) consist of crumbled bread of various dryness, sometimes with seasonings added, used for breading or crumbing foods, topping casseroles, stuffing poultry, thickening stews, adding inexpensive bulk to soups, meatloaves and similar foods. Bread crumbs or breadcrumbs (regional variants including breading and crispies) consist of crumbled bread of various dryness, …

Add to cart

VANILLA ESSENCE 20 ml. 100% halal. 2-3 times more concentrated. High Quality. Probably the best in Pakistan.

₨

280

[playlist type="video" ids="867"]

Why buy Khoraak Foods Vanilla essence?

100% halal. Propylene glycol is used instead of spirit.
 2-3 times more concentrated.
High Quality. Probably the best in Pakistan.
Dropper bottle (For control dispensing)
Glass bottle (To save from plastic contamination)
Colored bottle (To save from light degradation)
2 years min expiry.

Add to cart

Cake Mix Chocolate 300g

₨

320

Description of Cake Mix Chocolate 300g Cake Mix Chocolate   is a cake made with chocolate or cocoa. To evaluate texture during tastings at Cocoa Runners. We use four basic descriptors that are easy to understand: smooth, chewy, coarse, and unrefined. Mouthfeel can be more complicated and confusing to categorise.Chocolate cake has a chocolatey hint of …

Add to cart

Almond Essence

₨

280

Why buy Khoraak Foods Almond essence?

100% Halal unlike some cheap brands which use spirits.
 Concentrated. Min 2-3 times then others brands. Few drops will give you desired result.
Their are as near as possible to real Almonds.
We use colored glass bottle to save essence from light and plastic contamination.

Add to cart

Stevia Natural Sweetener 50 pkts

₨

850

Stevia Natural Sweetener 50 pkts Stevia Sweetener Stevia Natural sweetener ZERO calorie is  Best alternative to sugar Natural plant based.  Mostly in market are artificial chemical based.  Organic  No After taste . Just taste like real sugar. Safe and healthy choice Stevia 200-300 times sweeter the sugar zero-calorie Diabetes control use only 1 g to sweeten …

Add to cart

Ginger Food Essence

₨

280

Khoraak Foods (pvt) Ltd manufactures the finest possible food essence and flavors in Pakistan.

Why buy Khoraak Foods essence, extracts and flavors?

100% Halal unlike some cheap brands which use spirits.
They are super concentrated. Min 2-3 times then others brands. Few drops will give you desired result.
Their are as near as possible to real flavors.
We  use colored bottle to save essence from light.
Only glass bottle is used ,as plastic reacts with essence ingredients and quality is compromised.
A special dropper is provided to control the flow of essence.

Add to cart

Baking Soda

₨

180

BAKING SODA 200g (Sodium bicarbonate) Baking soda is one of the most widely used leaveners in baked goods. This simple chemical compound, also known as sodium bicarbonate, is found in crystalline form in nature but is ground to a fine powder for use in cooking. WHY IT WORKS  Hot oven will transform it from sodium …

Add to cart

Stevia Natural Sweetener 300 sachet

₨

3,900

Re: STEVIA NATURAL SWEETENER – 300 Sachet box

Best alternative to sugar.
Premium quality sweetener.
Organic
No After taste . Just taste like real sugar.
Safe and healthy choice
zero-calorie
Diabetes and weight management friendly.
use only 1 g to sweeten tea cup.
Economical due to less use.

"Stevia" is registered trade mark owned by Khoraak Foods (pvt) Ltd.
Price: Institution size box ( 300 sachets): Rs 3900 + Rs 250 shipment

Add to cart

Lemon Extract Essence

₨

280

Why buy Khoraak Foods lemon extracts?

100% Halal unlike some cheap brands which use spirits.
Super concentrated. Min 2-3 times then others brands. Few drops will give you desired result.
We  use colored bottle to save essence from light.
Only glass bottle is used ,as plastic reacts with essence ingredients and quality is compromised.
A special dropper is provided to control the flow of essence.

Add to cart

Cake Mix Vanilla 300g – Khoraak Foods

₨

320

Short description of Cake Mix Vanilla 300g This Homemade Vanilla Cake Mix is super easy to put together and store in your pantry for those days you want to put together a quick, delicious vanilla cake! Make several to keep on hand – or to give as gifts. I've even included a cute little tag you …

Add to cart

Food Color (Blue) 60ml

₨

180

Why buy Khoraak Foods Food colors?

Halal Certified
Plant based
Even color
2x concentrated.
Convenient dropper bottle
Gluten free
Guaranteed quality
2x years expiry

Add to cart

Peach Essence

₨

280

Why buy Khoraak Foods peach essence?

100% Halal unlike some cheap brands which use spirits.
They are super concentrated. Min 2-3 times then others brands. Few drops will give you desired result.
Their are as near as possible to real peaches.
We use colored glass bottle to save essence from light and plastic contamination.

Add to cart

Chocolate Essence

₨

280

Why buy Khoraak Foods essence?

100% Halal unlike some cheap brands which use spirits.
They are super concentrated. Min 2-3 times then others brands. Few drops will give you desired result. (Dropper attached)
Their are as near as possible to original.
Colored glass bottle to save essence from light and plastic contamination.

Add to cart

Bakers Yeast 50g

₨

180

What is yeast and its uses?

In food manufacture, yeast is used to cause fermentation and leavening

.

Add to cart

Vanilla Essence (French)

₨

280

Why buy Khoraak Foods vanilla essence?

100% Halal unlike some cheap brands which use spirits.
They are super concentrated. Min 2-3 times then others brands. Few drops will give you desired result.
Their are as near as possible to real vanilla.
We use colored glass bottle to save essence from light and plastic contamination.
A dropper is already inserted to control measured flow of essence.

Read more

Food Color Green 20ml

₨

180

Why buy Khoraak Foods Food colors?

Halal Certified
Plant based
Even color
2x concentrated.
Convenient dropper bottle
Gluten free
Guaranteed quality
2x years expiry

Add to cart

Food Color Yellow

₨

180

Why buy Khoraak Foods Food colors?

Halal Certified
Plant based
Even color
2x concentrated.
Convenient dropper bottle
Guaranteed quality
2x years expiry

Add to cart

sandal Essence

₨

280

Why buy Khoraak Foods essence/flavours?

100% Halal (non spirit)
 Super concentrated.  2-3 times then others brands. Few drops give desired result.
Dropper bottle.
 High quality ingredients.
Colored glass bottle (to save  from light and plastic contamination)
2 years expiry.

Read more

Strawberry Essence

₨

280

Why buy Khoraak Foods Strawberry essence?

100% Halal unlike some cheap brands which use spirits. 2 times  concentrated then others brands. Few drops needed. Colored glass bottle to save essence from light and plastic contamination.

Add to cart

Kewra Food Essence flavour 20 ml – Khoraak Foods

₨

280

Why buy Khoraak Foods kewra essence?

100% halal. Propylene glycol is used instead of spirit.
 2-3 times more concentrated.
High Quality. Probably the best in Pakistan.
Dropper bottle (For control dispensing)
Glass bottle (To save from plastic contamination)
Colored bottle (To save from light degradation)
2 years min expiry.

Add to cart

Caramel Essence

₨

280

Why buy Khoraak Foods Caramel essence?

100% Halal unlike some cheap brands which use spirits.
They are super concentrated. Min 2-3 times then others brands. Few drops will give you desired result
We use colored glass bottle to save essence from light and plastic contamination.

Add to cart

Zafran Food Essence flavour 20ml

₨

280

Why buy Khoraak Foods essence?

100% Halal (non spirit)
 Super concentrated.  2-3 times then others brands. Few drops give desired result.
Dropper bottle.
 High quality ingredients.
Colored glass bottle (to save  from light and plastic contamination)
2 years expiry.

Add to cart

Stevia Natural Sweetener 125g

₨

1,250

 

                       STEVIA SWEETENER

(Trade mark registered product of Khoraak Foods (pvt) Ltd)

Stevia is  "zero-calorie," natural and organically grown plant based product.  Stevia is a natural alternative to sugar aka "white poison" .

Stevia is the only plant based natural sweetener in market.  Others are chemical based artificial sweeteners.

Add to cart

Food Color Blue (60ml)

₨

180

Why buy Khoraak Food colors ?

Made from natural plant-based sources. (Chemical free)
Food grade.
At least 2 times more concentrated . Few drops will bring desired results.
Dropper bottle for ease and comfort.
2 years expiry.
Halal

Add to cart

Apple Essence

₨

280

Why buy Khoraak Foods Apple essence?

100% Halal unlike some cheap brands which use spirits.
They are super concentrated. Min 2-3 times then others brands. Few drops will give you desired result
We use colored glass bottle to save essence from light and plastic contamination.

Add to cart

Nutanut Chocolate Junior 20g. one box = 24 pieces

₨

80

Description of Nutanut Chocolate Junior It's hard to put into words how good this bar is! Nutanut Chocolate Junior One bar price is Rs. 80 Nutanut Chocolate Bar; Smooth and Rich (a perfect combo!)  Made with organic dark chocolate (dairy-free and soy-free) and blended with 100% rich quality  peanut , I'll be sure to satisfy …

Add to cart

Khoya Food Essence flavour 20 ml khoraak foods

₨

280

Why buy Khoraak Foods Khoya essence?

100% halal. Propylene glycol is used instead of spirit.
 2-3 times more concentrated.
High Quality. Probably the best in Pakistan.
Dropper bottle (For control dispensing)
Glass bottle (To save from plastic contamination)
Colored bottle (To save from light degradation)
2 years min expiry.

Read more

Food Color (Red)

₨

180

Why buy Khoraak Foods Food colors?

Halal Certified
Plant based
Even color
2x concentrated.
Convenient dropper bottle
Gluten free
Guaranteed quality
2x years expiry

Add to cart